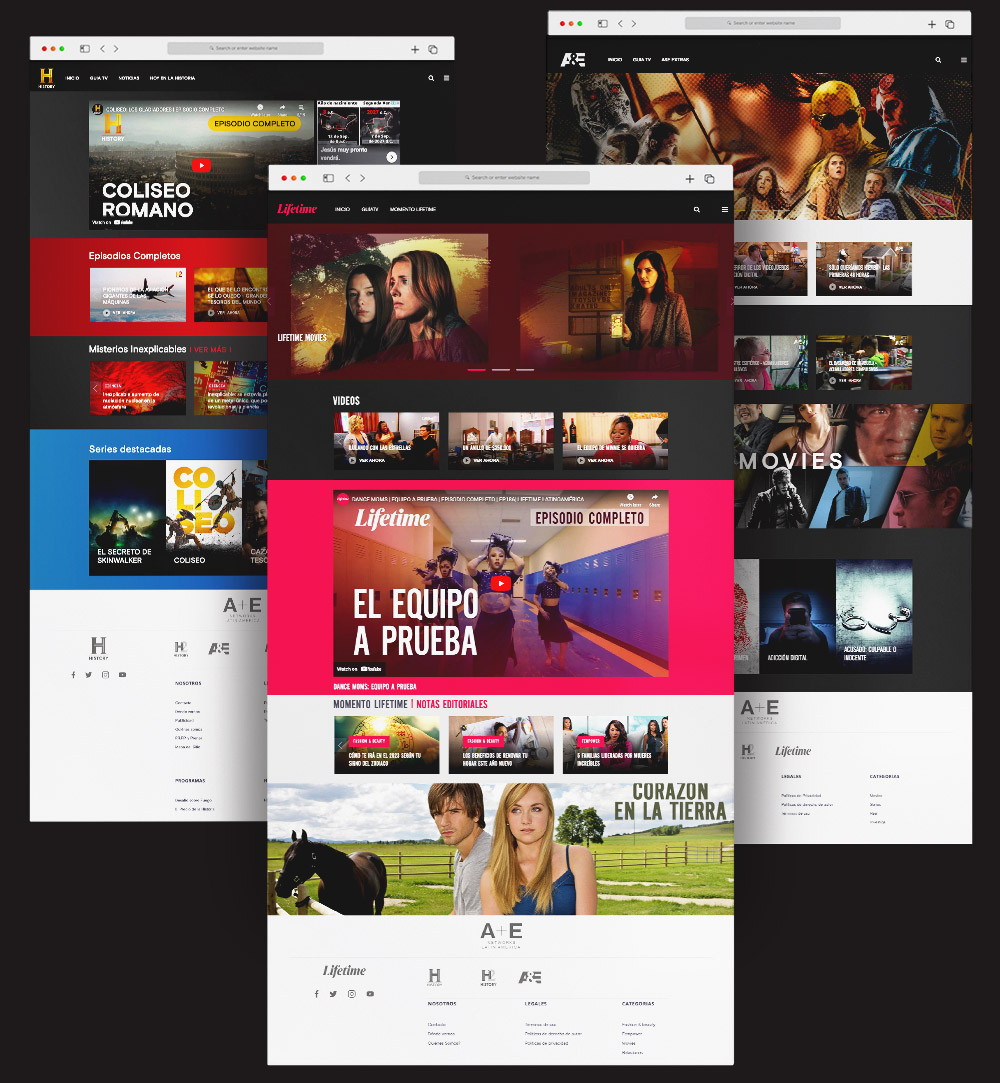 A&E Networks is an American multinational broadcasting company that is a 50–50 joint venture between Hearst Communications and The Walt Disney Company through its General Entertainment Content division
The company owns several non-fiction and entertainment-based television brands, including its namesake A&E, History, Lifetime, FYI, and their associated sister channels, and holds stakes in or licenses their international branches.
Location
Buenos Aires
Websites
https://www.aenetworks.com/
Latam/Brasil Sites Migration
SCENARIO
A&E had three brands, History, A&E and Lifetime, in two markets, Latin America and Brasil.
For this, A&E six sites, one for each brand in each region, running in Drupal 7. The sites had a lack of maintenance, modules out of date, bad performances and after several engineers and consultants that were doing modifications without a procedure over the years, the sites became unmaintainable.
They were looking for a new implementation, with a complete content migration, new look and feel and an improved UX for the users.
SOLUTION
42mate presented a proposal to migrate the sites to Drupal 9, with a multi-site configuration, using the latest modules and Drupal features.
The idea was to deploy all these sites on AWS with an auto scaling configuration and all deployed using Terraform (IaC).
All the new rebranding and UX was developed by our design team using AdobeXD to present functional prototypes of the proposed site.
The work took 5 months to complete, in the first release we released the History Brand for both markets. After 2 more months we released the remaining brands for booth markets.
The Drupal 7 version had 49 content types. The new version only had 5 content types and 6 block types. This had a direct impact on the editorial team making it easy to create and edit content on the site. Big part of this optimization was the Layout Manager module that allowed us to create flexible landing pages with almost no effort.
Another big win of this work was the implementation of AMP and Instant Articles for better content distribution on the Social Networks and gaining more visitors on the site.
Last but not least, this site had a lot of efforts on SEO optimizations for better search positioning.
Nowadays we continue working on the site maintenance, creating new features and improving the sites in every possible way.
Project Links